Defining question templates
A question template defines single-answer questions in a format that you can process in bulk. By importing raw data instead of manually creating questions, you can speed up the development of your surveys.
For example, you can quickly configure the possible answers to a question, such as a scale of one to ten, by using a comma-separated list in your template.
The following table provides some examples of the types of questions that you can define in a question template.
Example import data for a customer satisfaction survey
ID
Name
Question plain text
Answer mode
Answer option labels
Answer option values
Radio button label orientation
IsPrimary
Primary member

Are you the primary member?

check box
 
 
 
MembershipLevel
Membership level
What type of membership do you have?
drop-down
Single,Family,Family plus

Single,Family,Family plus

 
SatisfactionRating
Satisfaction rating
How likely is it that you would recommend our services to a friend?
radio
0,1,2,3,4,5,6,7,8,9,10

detractor,detractor,detractor,

detractor,detractor,detractor,

detractor,passive,passive,

promoter,promoter

horizontal
Because question templates store data in a flat format, you can filter, sort, or copy and paste relevant values to ensure that your survey has a consistent look and feel. When you reimport a template, you can choose whether existing questions are updated or ignored. You can get more information about which questions were created, updated, or ignored, by reviewing the import summary.
The following figures illustrate the actions that you can take during each step of the import.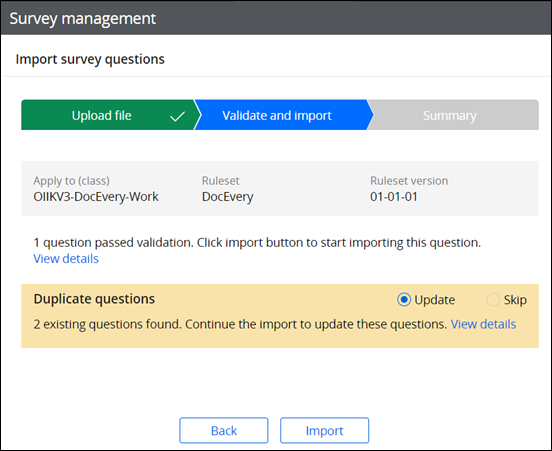 Validation results, with options to skip or update existing questions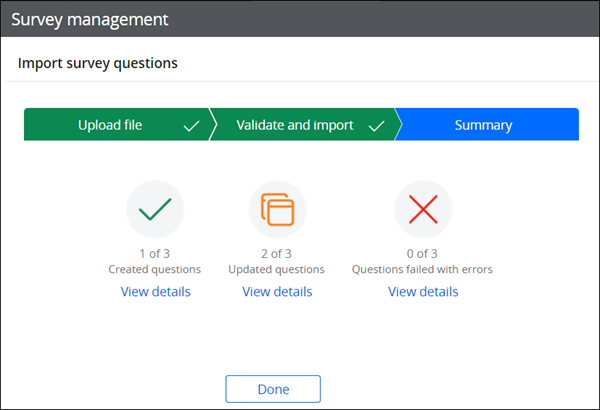 Import summary, with options to get more information about created questions, updated questions, and questions with errors
For multi-answer questions or advanced functionality, such as scoring answers, use the Survey Management landing page to configure your questions.
Published October 2, 2017 — Updated September 3, 2019
Suggest Edit
---
Related Content