How to support email changes
Summary
When an email correspondence is sent from a Process Commander application to an external user, and the external user replies, that email reply message can be attached to the original work object.
By configuring your Email Account, you can attach a unique ID to outbound correspondence. This ID enables replies to the original correspondence to be routed to the original work object.
Suggested Approach
To enable email conversations:
You should already have in place an Email Account data object and an Email Server data object. If you do not, create these now for the user and email provider you are trying to configure.
Create a new Service Package titled EmailDefault. Enter the access group of your application's users.

Navigate to the

Methods

tab. Using the SmartPrompt, select Rule-Service-Email in the

Service Type

field. Click the

Show Service Methods

button.
Create a new Email Listener using the Email Server name you already created. Complete the form according to the image below. The standard Email Service rule EmailDefault.Work-.CreateEmailFlow is reponsible for handling email conversations and must be referenced here.

Start the listener using the System Management Application.

Select the node you would like to start the listener on from the Node list.

Click Listener Management under the node name in the left menu.
Select the listener in the Available Listeners dropdown box. Click Start.

To ensure the listener is functioning properly, send a test email to the address you defined in the Email Account and Email Server instances. Refresh the Listener Management and notice the Request Count and Last Request fields.
Testing Email 'Conversations'
There are several ways to test this feature. One is to send an email to an external user from a correspondence in an email, then have the external user respond, and notice that the reply message is automatically attached to the original work object.
In the example, the SendEmailCorr Local Action has been added to an assignment in an existing flow and an email is sent.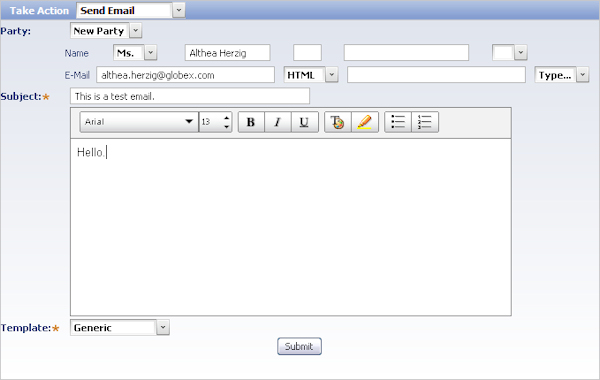 The receiver of the email may notice the following in the email header:
Message-ID: <26444453.15.1234986413896.JavaMail.sturh@sedu012k3>
This ID is used to route any reply message to the appropriate work object. When such a reply is sent, it is automatically attached to the work object.