Troubleshooting: Rich Text Editor spell checker displays HTML
Summary
When you click the Rich Text Editor SpellCheck icon, a pop-up window with HTML elements displays, and the spell checking does not complete as expected. The Rich Text Editor displays correctly and all the remaining text editing buttons (Bold, Italic, Underline, and others) work as expected.
Here is an example of the pop-up window with HTML elements that appears when you click the SpellChecker icon.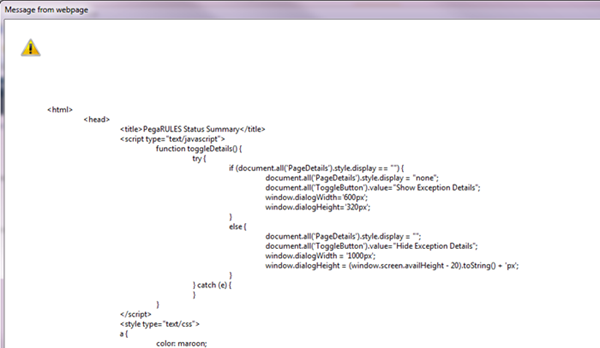 Explanation
This is a known issue caused by an incomplete installation of HFix-6121. As explained in the HFix Summary on Hotfix Self-Service, you install the hotfix JAR file using Update Manager. Then you must follow the Post-Installation instructions to obtain the ZIP file containing data instances and complete the installation of HFix-6121.
Suggested Approach
To resolve the problem, follow these steps:
Run the Update Manager System Scanner to determine whether HFix-6121 is installed.
If HFix-6121 is installed and you are experiencing the spell checker problem, go to My Support Portal and submit a Support Request to obtain the second part of HFix-6121, the file pxHfix-6121-Rap.zip.
Once you receive this ZIP file, extract its contents and follow the pxReadMe.txt to complete the hotfix installation.
Additional Information
Hotfix Self-Service
Pegasystems Hotfix Installation, Troubleshooting Partially Installed Hotfixes
Published October 2, 2015 - Updated September 25, 2019
Suggest Edit