Navigating in the 6.1 Designer Studio: Help for 5.5 developers
Question
A developer asks:
I regularly use the Version 5.5 Developer portal, and now I am upgrading to Version 6.1. How can I learn the Designer Studio ways to accomplish the things I now do using the V5.5 Developer portal menus?
Answer
As an aid to learning 6.1, you can download and print a four-page quick reference to identify approximate equivalents to use in the 6.1 Designer Studio.
Right-click PRKB_26184_PRPC61MenuRef (110KB) to open or download the guide.
You can print copies on a color printer. The page size in the PDF file is Legal size (8.5" x 14") in landscape orientation.
Sample page: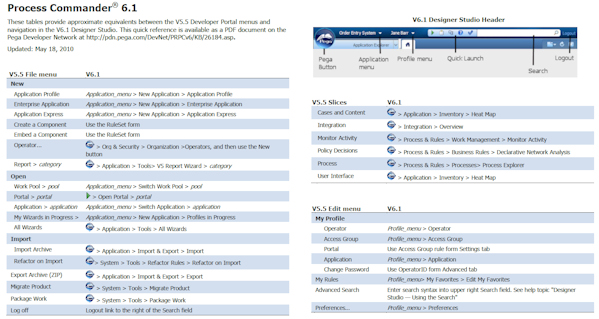 Project Manager
Business Architect
System Architect
System Administrator
UI/UX Specialist
Lead System Architect
Published October 7, 2014
Suggest Edit