Rule version comparison within a rule form
You can now compare the rule that you are currently working on with another version of the rule directly from the Actions > Compare with... menu option instead of using the Rule Compare utility. Rule comparison is supported for the Activity, Data transform, Message, Product, and Use case rule forms.
You can see the changes between versions directly on the rule form, such as which properties were changed or which pages were added between versions. You can also update the rule form and save your changes.
For example, if you are trying to resolve conflicts while merging branches, you can view the differences between the current rule in a branch and the target version. You can then make any required changes to resolve the conflicts.
Rule comparison in a rule form
The panel to the right of the rule form displays the changes that were made between versions. You can expand this panel to view the full paths of the properties or pages that were changed.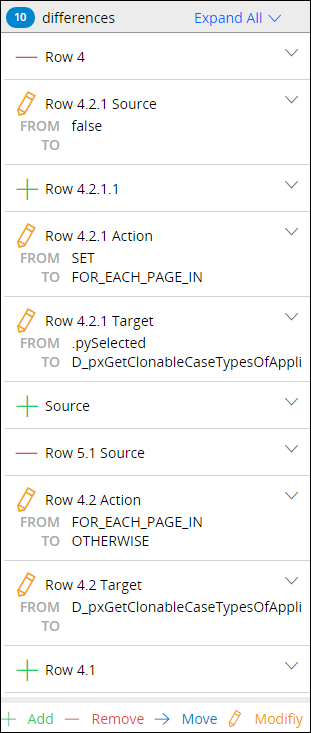 Expanded property and page details
Published June 1, 2016 — Updated November 29, 2016
Suggest Edit
---
Related Content