How to correct the Commit warning for activity rules
Summary
Remediate this high-priority warning before using the rule in a production environment.
In v5.4 sp2 or greater, use the Download High Priority Warnings option in the Application Preflight tool to research all high-priority warnings in your application. As a best practice, perform the preflight check before you lock a RuleSet version.
| Rule Type | Warning Type |
| --- | --- |
| Rule-Obj-Activity | DataIntegrity |
| Name | Commit |
| Message | Use of the Commit method should be carefully considered to insure data integrity. In most cases, you will want to allow PRPC to handle committing a transaction. |
| Details | N/A |
| Severity | 1 |
Suggested Approach
Do not use the Commit method in an activity that has an Activity Type of Utility, Route, Assign, Notify, or Integrator.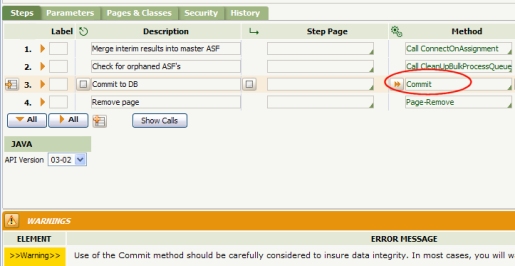 Flow processing performs commits automatically when the flow ends and when an assignment is created or completed. To avoid interference with this approach, do not use Commit in the flow-related activities in your application. (When you save an activity that uses Commit, if the Applies To key part of the activity is derived from the Work- base class, a warning message appears).
Explicit use of the Commit method can cause data integrity issues. Flow processing already manages the boundaries of work-related database transactions and adding commits can create synchronization problems between what is assumed to be in the database and what actually is in the database. This situation can make it extremely difficult to track bugs and cause data integrity issues. Additionally, object locks are often released upon the commits, which can make it even more difficult to track and recreate data integrity issues.