Upgrading and patching Pega Infinity
Version:
Only available versions of this content are shown in the dropdown
To keep your Pega Infinity software current, upgrade to the latest releases of Pega Platform and your industry applications or apply a patch to your existing software. Upgrade to take advantage of the latest features, capabilities, and security and bug fixes or apply a patch to address important security and reliability improvements.
Pega Platform version naming conventions
Pega patches and upgrades use semantic versioning, where the part of the version number that is incremented communicates the significance of the change. The version number, in the format XX-YY-ZZ, defines the major version (XX), minor version (YY), and patch version (ZZ), for example, 8.4.2.
Software versions are defined as follows:
Major versions include significant features that might cause compatibility issues with earlier releases.
Minor versions include enhancements or incremental updates.
Patch versions include small changes such as bug fixes.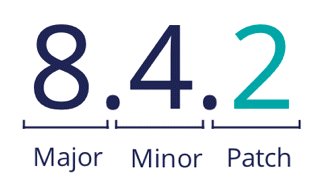 Patches
After the release of a new Pega Platform version, the software version enters a maintenance period, and Pega releases patches at a specified interval. Apply the latest patch to apply important security, supportability, and reliability improvements and bug fixes since the last minor release. Pega patches apply only changes observed between the patch and your currently running version, which ensures backwards compatibility and no regressions or feature updates that could negatively impact your application functionality.
Pega typically releases several cumulative patches a year for each release stream. The latest Pega software patch is always the most stable release available in that release stream. For details about the Pega Infinity patch policy and an overview of the Pega patch process, see Pega software maintenance and extended support policy.
Upgrades
Upgrade to the latest version of Pega Platform to apply new features, capabilities, and all available fixes to existing functionality that are backwards compatible.
For upgrades of Pega Infinity release 8.4.2 or later to release 8.5.1 or later for Pega Cloud Services, and for on-premises upgrades on Tomcat and PostgreSQL, you experience near-zero downtime. The latest upgrade process enhancements include improved monitoring to prevent issues and rolling upgrades and procedures that maintain high availability so that you can continue to work on your applications during the upgrade.
In addition, for Pega Cloud Services upgrades, you can perform a Go-NoGo decision of your live system (production) environment upgrade, which gives you the option to abandon your upgrade.
If you upgrade from Pega Infinity release 8.4.1 or earlier, or if you upgrade from Pega Infinity release 8.4.2 or later in on-premises environments other than Tomcat and PostgreSQL, you experience as little downtime as possible.
The following table contains a list of documents with information about your upgrade scenario:
Pega Infinity upgrade scenarios and related documentation
Did you find this content helpful?
100% found this useful