Declaring a data page as large
Version:
Only available versions of this content are shown in the dropdown
Improve data synchronization in your offline-enabled mobile app by declaring a data page as large. Large data pages synchronize only new or altered records instead of synchronizing the entire data page, which results in a smoother user experience at run time.
In the header of Dev Studio, click Configure Mobile Offline configuration .

On the Offline Configuration tab, in the Configuration Template section, click the template that you want to use with your offline-enabled app.

On the Allow list tab, add the data page to the list of offline-supported components:

Select the data page component category by clicking Data pages.

In the Data pages section, in the Select data pages list, select the name of the data page.

For an expense reporting mobile app, select the

D_Expenses

data page that contains details of expense reports.

Click Add.

In the Large data page column, in the row that is specific to the data page, select the corresponding check box.

In the upper-right corner of the offline configuration template form, click Save.
A mobile app developer for the uPlus company, declares the
D_ExpenseClaim
data page as large.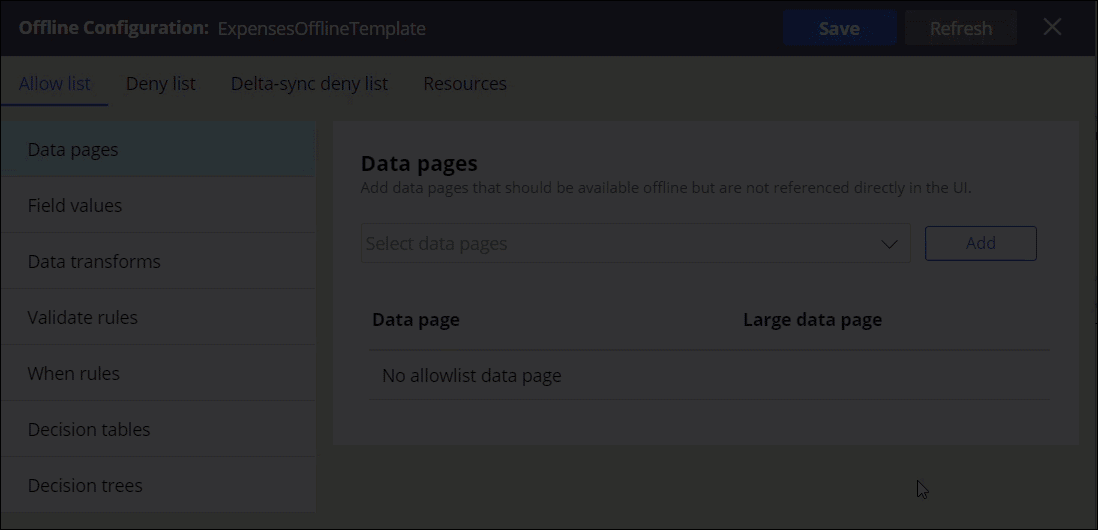 Did you find this content helpful?