Campaign Management
Version:
Only available versions of this content are shown in the dropdown
Campaigns are listed on the landing page which is accessed in the Pega Customer Decision Hub portal via the Campaigns link in the left navigation. This landing page lists the twenty most recently updated Campaigns available in the system. The View more results link (at the bottom) enables users to view the next twenty results. Users can utilize the filters at the top of the page to filter the results by Status, Issue / Group, Name, and Created by.
A Campaign is deemed available if its status is not Archived or Withdrawn.
Each Campaign is represented by a card in the landing page.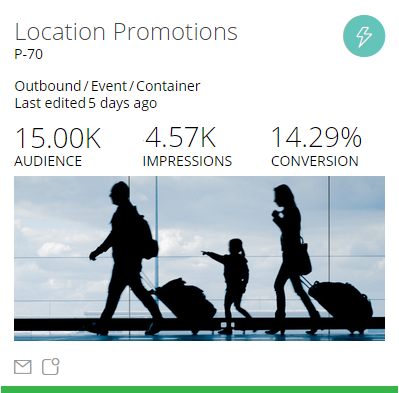 Users can click anywhere on the card to open the Campaign. The card displays the following salient information about the Campaign:
Name
Work id
Status icon - icon's tooltip displays status text
Enabled engagement types - available types are Outbound, Event, and Container
When the Campaign was last updated
Configured audience size
Total number of impressions
Overall conversion rate
Image associated with the Campaign
Channel icon array, containing icon for each channel utilized within the Campaign - icon's tooltip displays channel name
Conversion goal achievement indicator - This is the color bar at the bottom of the card and indicates performance against the Outbound Conversion Rate goal. It displays one of the following colors:

Gray - If Outbound Conversion Rate is not a configured goal for the Campaign or when the Campaign is in design mode.
Green - If the conversion rate goal has been met
Red - If the conversion rate goal is not met
Did you find this content helpful?