Withdrawing a campaign
Version:
Only available versions of this content are shown in the dropdown
While the Outbound Campaign is in either the design or the failed stage, the user can also withdraw it if it is no longer needed. To do so, the user can utilize the Withdraw action from the Actions menu and enter a note for the withdrawal.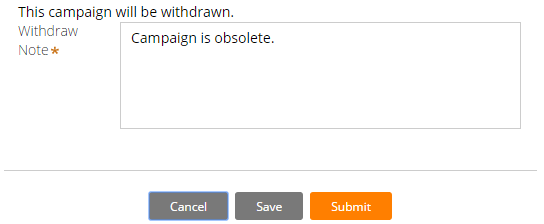 Withdrawing an Outbound Campaign moves it to the withdrawn stage. No further actions are available on this Outbound Campaign. The user can still utilize the Save as button to create a copy of this Outbound Campaign. The Outbound Campaign is also no longer listed (by default) in the Campaigns landing page. To view withdrawn Outbound Campaigns, users can set the Status filter on this landing page to Withdrawn.
Did you find this content helpful?