Generating a mashup code in case configuration
Case flows are a common requirement when embedding Pega 7 Platform content in another application's web page. When you click Generate mashup code for the Integration category on the Settings tab, Designer Studio automatically creates Pega Web Mashup (known as Internet Application Composer (IAC) in Pega 7.1.8 and earlier versions) HTML for use in the external application's page. This generated code can be cut and pasted into an external web page and used as a development accelerator for the Pega Web Mashup project.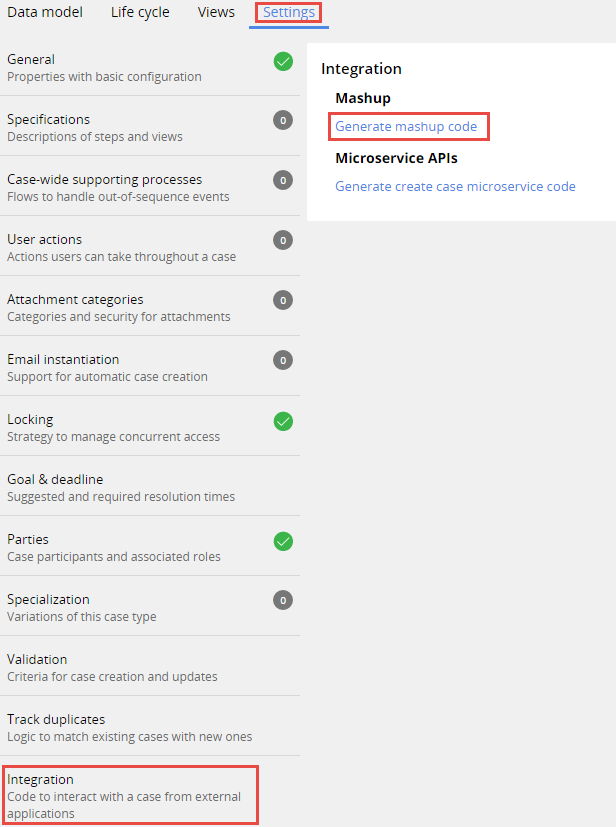 The Integration category in Case Designer
Suggested approach
To generate mashup code, do the following:
On the

Settings

tab, click

Integration,

and then click

Generate mashup code

. You can edit the URL, which is displayed in a dialog box.



Editing the mashup code URL

Click



Generating mashup code

. A dialog box displays the required Pega HTML. You can cut, paste, and view this code within the external page.
Select and copy all of the code. You can paste this code into your web page code.
At run time, your web page includes the case. Click Change Mashup URL to return to the previous screen and edit the mashup URL.
Published March 30, 2015 — Updated February 8, 2016
Suggest Edit