What's new in Workforce Intelligence
Workforce Intelligence is constantly improving your user experience and ability to analyze and optimize your processes in your organization. This article provides a summary of new features and improvements in the latest releases of Workforce Intelligence.
This article covers the following Workforce Intelligence releases:
Pega Workforce Intelligence 8.6.2
Workforce Intelligence 8.6.2 includes the following new functionality: 
Create and assign custom administrator roles
Rather than using only a single Administrator role that provides access to all administrative features, you can create custom administrator roles to give users access to specific administration pages. Custom administrator roles help you securely distribute administrative tasks among multiple users. The first administrator created on your account can name and assign roles to support how your organization manages Workforce Intelligence and also trains and promotes administrators. The first administrator can even create a custom administrator role that allows others to access the Roles and Permissions tab on the Organization page in order to create custom administrator roles. 
Roles can reflect levels of administrator responsibility. For example, the following image shows three levels of responsibility:
The Admin - Associate role provides access to only the

Administration

.
and  menu items and pages under
The Admin - Data Collector Hierarchy role provides access to only the

Data Collectors

tab on the

Organization

page.
The Ad

min - Senior role provides access to nearly every Administration page.

   

 
Example of custom Admin roles
An administrator that has the required access can create new administrator roles in a few steps. Select Administration > Organization > Roles and Permissions > Actions > Create New to launch the New Role pop-up window. Name and describe the role, and then select check boxes next to the pages that this role needs to access. The Organization page is divided further into its specific tabs for targeted access on this page.  
New Role pop-up window
After you create an administrative role, you can assign the role to users. When you add a new user or edit an existing user, you can choose from available roles in the Roles list. Workforce Intelligence applies the new roles the next time a user logs in.  
Example of custom administrator roles available for selection
Apply filters using enhanced screen and application lists 
Version 8.6.1 introduced the Apply filters option to help you find specific paths of interest within a single workflow. In version 8.6.2, this feature makes it even easier to select screens and applications when you apply a filter. The lists of applications and screens are now limited to the top 10,000 applications and screens that are part of the workflow that you are analyzing and are also included in the business unit and timeframe that you are viewing. In addition, the lists are now alphabetized.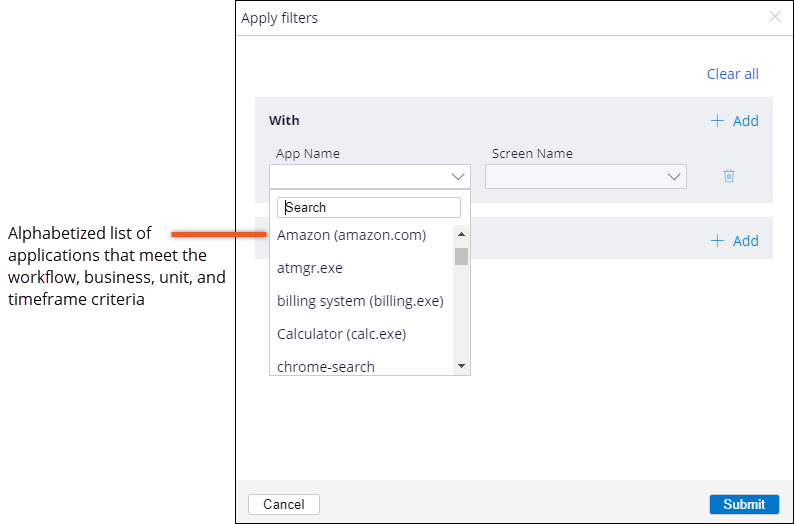 Enhanced application list for Apply filters option
New Insight for excessive key press errors
A new Insight helps analysts find error-prone, manual steps that might indicate opportunities for an automation, process change, or training intervention. This new Insight detects workflows and paths that have a key-press error rate of at least 30% (on average). Error key presses include the Backspace key and Delete key. 
Note the following example of this Insight:
​​​​​​

An error rate of at least 30% occurs in 6 workflows. Reduce the amount of manual effort required by the agents to help improve accuracy.
Pega Workforce Intelligence 8.6.1
Workforce Intelligence 8.6.1 includes the following new functionality: 
Filter paths by applications and screens
You can apply filters to quickly find specific paths of interest within a single workflow. The Apply filters option is available above the list of paths in each workflow. The number in parentheses indicates how many filters are currently applied to the list of paths.  
Apply filters option for paths
Click + Add in the With and Without sections of the Apply filters pop-up dialog to add multiple applications and screens. As you make additions, the filter applies AND logic to each item in the list. If you add criteria to both With and Without, the same AND logic applies.
For example, you recently trained associates (data collectors) on a new billing application screen that replaces a manual process in Notepad. Now, you could apply a filter to show only paths with Notepad but without the new billing screen to gauge adoption of the new process. If the Billing application has a long list of screens, you can enter the name of the screen in the Search box under Screen Name to find it. Consequently, your filter would look similar to the following image:
Apply filters pop-up dialog box
Did you find this content helpful?
100% found this useful