FAQ: Why does Visio 2007 always open in an external application window and not within the Flow Editor?
Question
A developer asks: Why does Microsoft Visio 2007 open in an external application window and not in the Process Commander Flow Editor?
After creating a flow rule, when I click the Flow Editor icon

to open Visio within Process Commander, the Flow Editor toolbar does not appear. I cannot perform Save, Save As, Add to Favorites, and other actions.
Answer
Visio 2007 does not open in the Internet Explorer browser session because Microsoft Office 2007 sets the BrowserFlags registry value for all products of the suite to open file types within the appropriate Microsoft Office application and not within an Internet Explorer session.
Caution: The following procedure instructs you to edit the Microsoft Windows registry. Be very careful when editing the registry. Editing mistakes in the registry can cause irreversible damage because the registry contains the settings for the operating system and application components. Refer to the Registry topic cited in the Microsoft References below for more information.
To enable Visio 2007 to open in the Process Commander Flow Editor, complete the following steps:
Make a backup copy of your Microsoft Windows registry. Refer to the Microsoft Support article cited below if necessary.
To open the Registry Editor, from the Start menu on your Windows desktop, click Run. In the Open field, type regedit and click

OK

.
Alternative: Open a command window. In the command line, change to the WIndows directory path and type the command regedit.exe.
In the Registry Editor, go to

\HKEY_Classes_ROOT\VisioDrawing.11

and delete the entry BrowserFlags.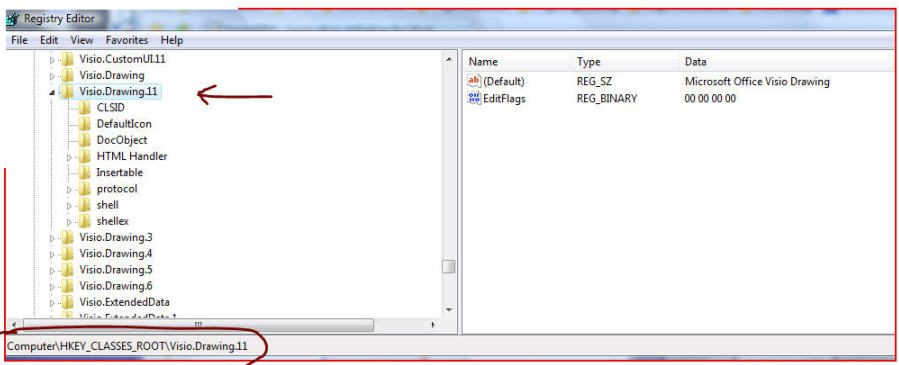 Additional Information

About Flow rules
Microsoft References
A new window opens when you try to view a 2007 Microsoft Office program document in Windows Internet Explorer 7 or Internet Explorer 8
How to back up and restore the registry in Windows XP
Editing the Registry Hive For Your Image on the Target Device
Published November 15, 2015 - Updated September 25, 2019
Suggest Edit