Use the OverallSLA flow to associate a service level with a work object (rather than an assignment)
Summary
Service level rules define time intervals known as goals, deadlines, and late intervals. These time intervals define the amount of time an assignment or process should take to complete.
Typically, service levels are associated with individual assignments. However, what if the time spent on individual assignments isn't important, but the entire process must be accomplished within a specific amount of time? In this case, you can associate a service level rule with the work object itself.
How it Works
After a service level rule has been configured for a work type, whenever a work object from that class is created, a standard flow named Work-.OverallSLA starts running in the background. In its default state, the OverallSLA flow creates an assignment named SLAProcessing in the default workbasket for the operator's organization.
This assignment stays open until the work object is resolved. The times specified in the work object's service level are tracked against the SLAProcessing assignment. Additionally, the OverallSLA flow appears in the clipboard as one of the executing flows on the pyWorkPage page:
The OverallSLA flow has few component parts. It has an assignment, a router, and a ticket. Examine this flow to determine whether the design needs of your application require it to behave differently. For example, it is likely that you will want to change the behavior of the router (ToOverallSLA). If so, save the flow and its component parts into the appropriate RuleSet and make your changes there.
Suggested Approach

To associate a service level rule with work objects, you specify it in the model for the work class. Complete the following steps:
1. Create the service level rule. (From the Rules by Type explorer, select Process > Service Level.) Here's the Work-.Default service level rule.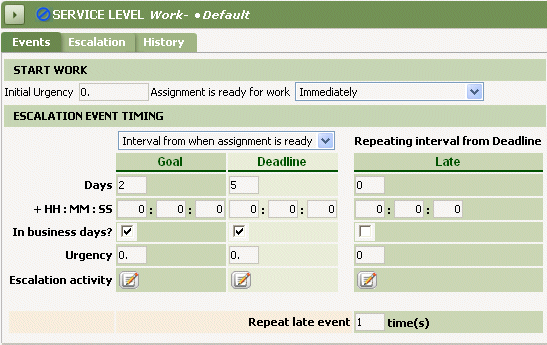 2. Locate and open or create the pyDefault model rule for the work type of the work object for which you created the service level rule (Rules by Type explorer > Technical > Model).
3. In the model rule, configure an entry for the pySLAName property that specifies the name of the service level you created. Save the Model . For example:

Now when you create a work object of that work type, flow processing tracks the service level for the work object against the SLAProcessing assignment. Note that because you specify the service level in a model for the work class, the service level applies to all flows that create work objects of that class.
Note: Remember to verify that the OverallSLA flow routes the SLA assignments appropriately for your application, to a person or workbasket that someone is monitoring..