Configuring the custom control by registering the action page in Java
When you see the message "Unregistered request encountered" in the security alert log, you need to fix the behavior of the non-autogenerated control that invokes the specified rule. There are various ways to register the rule or encrypt the URL to prevent this alert from being logged. Use Java when your control calls a custom rule (other than a function) and you do not have access to JavaScript.
Register the action page by calling getUIAction().register(), as shown in the following example.
Example: Registration of custom flow action
The following images show how to find the action name, parameter names, and parameter values when you are viewing the Action tab for the control in Dev Studio.
In the following image, the Action tab for the button shows that the Create Work action calls the pyStartCase flow on the O8CB4Y-GGApp-Work-TestCase class.  The screen shows these values in a user-friendly format.  To register the action in Java, you need the technical names of the action and its parameters.
Action tab with custom flow
While you view the Action tab, open the clipboard. From the current section on the clipboard, expand the entries until you find the action that is labelled Create Work, as shown in the following image.  The action label that is displayed on the Action tab (pyActionLabel) is Create Work and the technical name for this action (pyAction) is createWork. When you register the action page in Java, use createWork as the action name.
Clipboard showing action name
To find the parameter names and values, open Live UI and find the Class Name and Flow Name fields.  The following image shows the technical names for the class name parameter (pyClassName) and the flow name parameter (pyFlowName). When you register the action page in Java, use pyClassName and pyFlowName as the parameter names.
LiveUI showing class parameter name and value
The following image summarizes how you find the action and parameter names and register the action page in Java.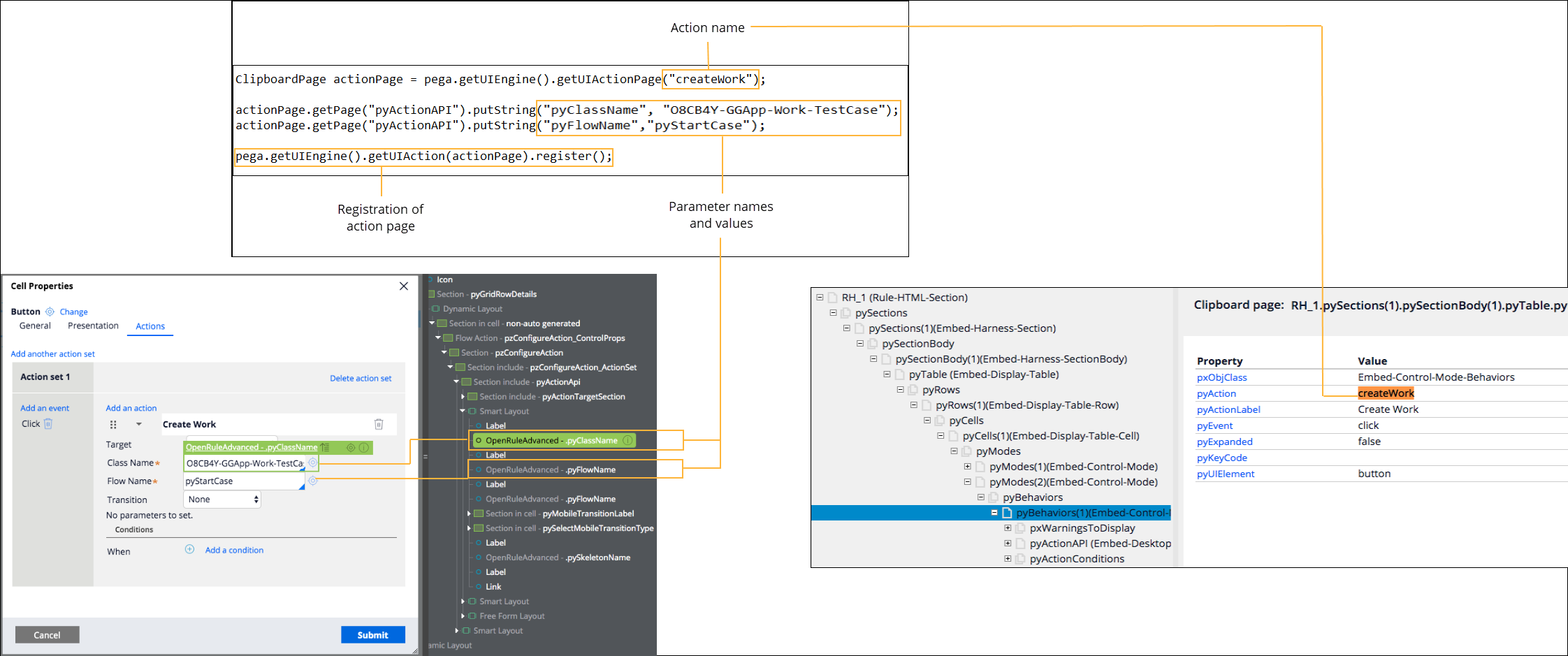 Action and parameter names and values for registering an action in Java
Published August 12, 2019 - Updated August 13, 2019
Suggest Edit