Pega Platform patch release schedule and contents
The Pega Platform patch release process applies to systems running Pega Platform 8.1 and later. Several cumulative patches are released a year for each release stream.
There are separate patches for each Pega Platform release stream: Pega uses the following naming release conventions: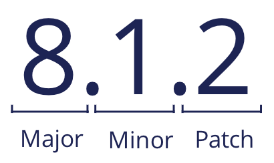 Pega Platform patches are released as needed after a GA release. The schedule may be adjusted based on the severity and nature of any reported issues.
Pega Platform patches are cumulative: the latest patch includes all functionality from previous patches.
To review the list of issues resolved in a given patch, see the Resolved Issues page and select the latest patch version for your release stream.
For information about the latest patch for a release stream, see Pega Platform patch release announcements.