Converting tables to charts
Applicable to Cosmos React and Theme Cosmos applications
Improve the look of your application by creating visually appealing insights that present data in a modern and intuitive manner. For example, you can convert simple list-based insights to interactive charts to ensure a user-friendly experience when analyzing data.
Add the Explore Data page to your application. For more information, see
Organizing the main menu for a portal
.
You can add the Explore Data page only if your application uses a Cosmos React or Theme Cosmos in hybrid mode.
In the navigation pane of your application, click Explore Data.

In the Insights section, in the Name column, click the insight whose data you want to visualize.

In the upper-right corner of the screen, click Actions Create chart .

From the Fields section, drag specific data to the Measures and Dimensions drop zones to format the chart.

Use the

Measures

and

Dimensions

drop zones to include numerical and detailed data respectively, such as the number of mortgages and the loan requestor's personal information.

Drag the

Profit

record to the

Measures

drop zone, and then drag the

Department

record to the

Dimensions

drop zone to visualize the income of specific departments in your company.

Optional:

To change the visualization, in the Chart type section, from the type list, select the specific chart.
The following visualization presents how to create an interactive chart-based insight from a table: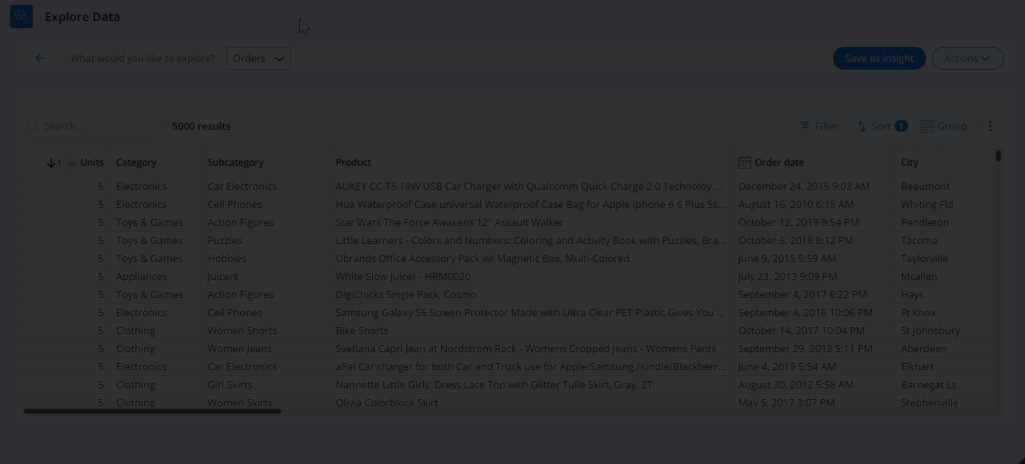 Did you find this content helpful?