How to include a property value in a layout tab
Summary
Optionally, in a work object form, you can present the value of a property in a tab, in addition to the text label of the tab.
Suggested Approach
Open the Harness rule. Access the

Layout

tab. Select and drag the Tab control ( ) from the Layout group.
Click the SmartFrames wireframes tool ( ) to make wireframes visible. Click the magnifying glass next to the tab to open the Container panel.
On the

Container

tab, set the Header value to StandardHeader. On the

Header

tab, confirm the Layout type is Tabbed. Enter a caption for the tab in the Title field.
Complete other Container panels as desired. Click

Apply

.
Determine which property value you want to appear in the tab. Select a control (for example, Input Field) from the Basic group. Drag and drop it into the single cell to the right of the tab caption text.
Click the magnifying glass icon next to the control you dropped. Complete the Cell Properties panel to identify the property and its presentation. On the

Conditions

tab, select the Read Only check box. Click Apply. In this example, the property pyAgeFromDate is presented using the Date-Short HTML property rule. Click

Apply

to close the Cell Properties panel.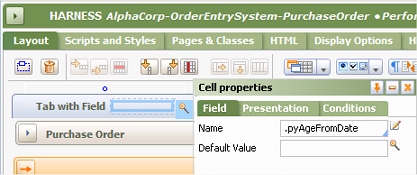 If your harness rule will contain multiple tab containers, repeat this process to add properties to other tabs, if desired.
Complete other parts of the harness rule. Save the rule form.
Test. At runtime, the property value appears in the tab.