Create conditions faster with an Anypicker control (8.4)
You can now create conditions in a simplified and accelerated way in a condition builder by using the Anypicker control. Save time by searching for values or selecting values from categories of when conditions and fields. To create precise conditions, you can include fields that are up to four levels within field groups.
The following figure shows the Anypicker control in a condition builder:
Condition builder with an Anypicker control
You can also improve the flexibility of your processes and ensure that an application evaluates conditions regardless of the capitalization that users enter by ignoring case sensitivity in text type fields. For example, an application can then return the same result for both of the following two conditions: Active channel is equal to email and Active channel is equal to Email. You can also customize the commit DateTime value by specifying the number of days before or after an application reaches a specified condition. For example, Commit DateTime is before next 3 days advances the case only if a user resolves a task within 3 days after the case reaches the condition.
The following figure shows how to define a Commit DateTime value: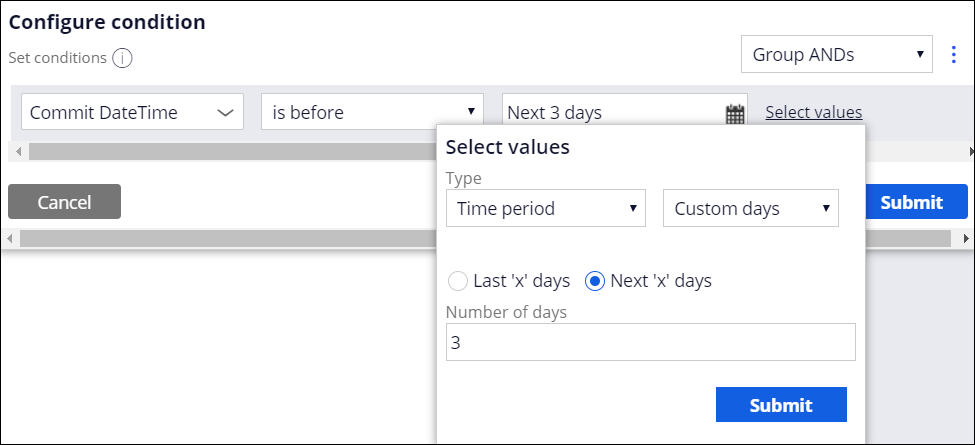 Configuration of a Commit DateTime value
Define complex conditions by defining embedded conditions for lists. For example, you can create a condition that displays a list of products that have specific values, such as a color, year, and make. 
For more information, see Adding an Anypicker control.
Published February 24, 2020 - Updated April 3, 2020
Suggest Edit