Article
How to use Windows mouse operations to speed your development
Summary
You can use Windows mouse operationss(right-click, drag-and-drop)to speed development of rule forms. 
Suggested Approach
Many rule forms and data forms contain arrays or repeating groups, identified by numbered rows. For example, the Definition tab of the Model form has a list of properties:
To speed your development tasks, use these quick and natural Windows operations with the mouse pointer.
Tip 1: Drag and drop to reorder rows.
To reorder rows of an array, click the numeral at the left end of a row, hold the (left) mouse button down and drag the row to the destination row of the same array. Release the button to insert the row. This is useful for arrays where the order of rows is important, such as steps on the Steps tab of an Activity form.
Tip 2: Right-click to cut, copy, or insert rows
Right-click the numeral at the left end of a row to access a context menu. Select a menu option to cut, copy, paste, or insert an entire row. (If the form is in read-only mode, you cannot paste or insert.)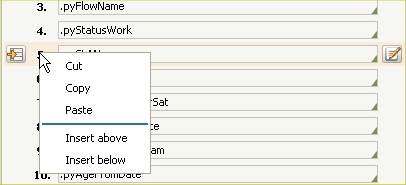 Tip 3: Use the Launch toolbar button to drag, or copy rows from one form to another.
To copy one or more rows of an array in one rule ALPHA to the same array on another rule BETA (of the same rule type)
Open rule ALPHA.
Click the Launch toolbar button ( ) to open the Alpha form in a separate window.
Open rule BETA.
Click a numeral at the start of a row on the ALPHA form. Hold down the left mouse button to drag the selected row to a similar destination row on the BETA form. When the pointer shape changes, release the button to drop the row.
The context-menu is also available on both forms. You can cut a row from ALPHA and paste the row into BETA. Don't forget to save any form you update.
Note: The grid control (which appears on the decision and user interface rule forms) does not support these operations, but offers other quick shortcuts.
Tags:
Project Manager

Business Architect

System Architect

System Administrator

UI/UX Specialist

Lead System Architect
Published February 2, 2007 — Updated October 7, 2014