Article
Quick Reference: Menus in the Developer Portal V5.3
Question
A developer asks: After upgrading to Version 5.3, I want to learn which menus in the Developer portal provide access to which tools and functions.
The six top menus have more than 160 choices. How can I learn and remember them? .
Answer
You can download and print a two-page quick reference to the menus.
Click PRKB25115PRPCPC53DeveloperMenuQuickRef.PDF (102KB) to open or download the guide.
You can print copies on a color printer.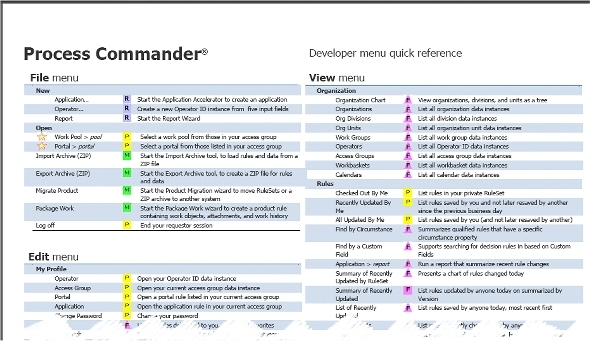 (Pegasystems does not distribute printed copies of this learning aid.)
Tags:
Project Manager

Business Architect

System Architect

System Administrator

UI/UX Specialist

Lead System Architect
Published November 21, 2007 — Updated October 7, 2014