How to use symbolic dates in report selection criteria
Summary
Symbolic dates allow you to choose date values in a list or summary view that are relative to the current date. They can be used on both the rule form and in the report itself. Symbolic dates are only used for values of Date and DateTime properties.
Some symbolic dates identify a single day, such as Yesterday or Tomorrow. Others define a range of dates, such as Current Month or Previous Quarter. Here is a list of all available symbolic dates:
Calendar Year
Calendar Quarter
Calendar Month
Calendar Week
Day
Current Year
Current Quarter
Previous Month
Previous Week
Yesterday
Previous Year
Current and
Next Quarter
Current Month
Current Week
Today
Previous 2 Years
Current and
Previous Quarter
Next Month
Next Week
Tomorrow
Next Year
Next Quarter
Current and
Previous Month
 
Last 7 Days
Current and
Previous Year
Previous Quarter
Current and Next Month
 
Last 30 Days
Current and
Previous 2 Years
 
 
 
Last 60 Days
Current and Next Year
 
 
 
Last 90 Days
 
 
 
 
Last 120 Days
 
 
 
 
Next 7 Days
 
 
 
 
Next 30 Days
 
 
 
 
Next 60 Days
 
 
 
 
Next 90 Days
 
 
 
 
Next 120 Days
Suggested Approach
To see how you can use symbolic dates in a report, create a list view that displays all work objects created in your application. Then reference a symbolic date to restrict the range of detail in the report based on the date chosen. Repeat the process to see the effect of the different date options.
Create a list view.
On the Display Fields tab, under the Show These Fields section, enter the following: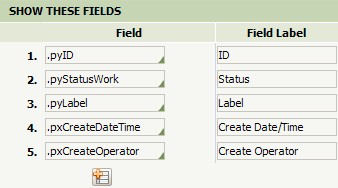 The fields entered under this section populate the columns in the list view.
On the Content tab, under the Criteria section, enter the following:

.pxCreateDateTime allows you to define the range of the list view using symbolic dates.
To select a symbolic date to use as the default value for .pxCreateDateTime, click the Search Values icon. The Calendar Web page dialog displays.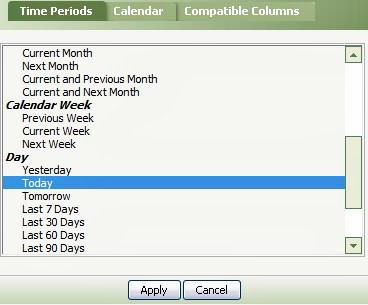 On the Time Periods tab, under Day, select Today and click Apply.
Click the Save icon to save the list view.
Click the Run icon. The list view displays. All work objects created today display in the report.

Click the Customize list criteria link. The Customize Criteria section displays. Change the value of .pxCreateDateTime from Today to Previous Week and click Submit.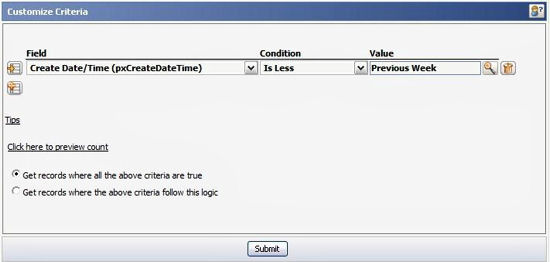 The List view now changes to reflect the the new criteria value. The report now displays all work objects created during the previous week.

Published February 17, 2016 - Updated April 29, 2020
Suggest Edit