Pega software maintenance and extended support policy
Pegasystems Inc. strongly encourages all clients to stay current on the latest minor release and patch of Pega Infinity because of important security and reliability improvements that are delivered with each new release.
For all Pega Infinity software suite versions 8.1.x and later and customer relationship management (CRM) applications, follows an industry-standard patch process that includes only the latest security updates and product defect fixes. The Pega patch process reduces challenges caused by hotfixes, because hotfixes cause each environment to be different and therefore difficult to reliably maintain and support. Pega patches within a release stream are cumulative, which means that all fixes from earlier patches in the release stream are included in the current patch as well as issues reported by others. The latest Pega software patch is always the most stable release available in that release stream.
Since each patch release is cumulative, Pega recommends adopting patch releases on a frequent basis to limit the number of fixed bugs against which clients must review and subsequently test.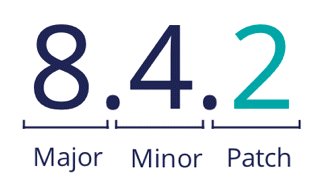 Fixes for minor versions (where patch delivery is active) will be packaged in the next patch release for that minor version. For issues requiring an immediate hotfix, such as production outages or security issues, those hotfixes will only be created for the most recent patch versions that are generally available; clients must be on (or move to) the latest patch version to apply that hotfix.
These fixes will also be included in the next available patch (if there is one). When a new patch is made available for any minor release, the previous patch for that minor release is no longer available for distribution. For example: When 8.4.3 is released, 8.4.2 will no longer be available for download from Pega Digital Software Delivery.
Pega releases patch versions for minor releases of software up to 18 months after its initial release (GA). When the final patch for a minor version is released, that minor version enters "extended support." We strongly recommend that clients upgrade to the latest minor version release prior to their minor release reaching extended support. Pega Infinity software suite versions (8.x and later) enter extended support on the following schedule:
Patch cadence and Pega Infinity extended support
| | | |
| --- | --- | --- |
| Pega Infinity software suite version | Pega GA date | Final patch version and date |
| 8.5 | Sept 2020 | 8.5.6, Mar 2022 |
| 8.4 | Feb 2020 | 8.4.6, Aug 2021 |
| 8.3 | Aug 2019 | 8.3.6, Feb 2021 |
| 8.2 | Feb 2019 | 8.2.8, Nov 2020 |
| 8.1 | Oct 2018 | 8.1.9, Oct 2020 |
Dates and version numbers are subject to change for Pega Infinity software suite 8.3, 8.4, and 8.5 patch releases.
Extended support means:
Clients should immediately upgrade to the latest minor version to benefit from ongoing security and reliability improvements.
Clients will continue to receive support from Global Customer Support but may be required to upgrade to the latest minor release to resolve non-production issues that they might experience.
Hotfixes may be provided for the following issues at the sole discretion of Pega:

Critical issues that result in production outages
Security-related vulnerabilities

Backporting capabilities or support for newer versions of third-party solutions is not available.
This version is no longer available for download from Pega Digital Software Delivery.