Chat and messaging
Version:
Only available versions of this content are shown in the dropdown
The chat and messaging section outlines the configuration elements that support all of the individual channels supporting conversations between customer service representatives (CSRs), bots, and their external contacts. Engagements in Pega Customer Servicecan be synchronous over chat or asynchronous over social channels, such as Facebook and Twitter, or a combination of both. The Digital Messaging service continues to add new features and channels, and this section describes a new chat channel (Web Messaging). Web Messaging delivers a light configuration experience while supporting many of Pega's Legacy Webchat (formerly known as Pega Chat) features.
The following figure shows the Pega's Legacy Webchat and the Digital Messaging channels fit in the chat and messaging configuration: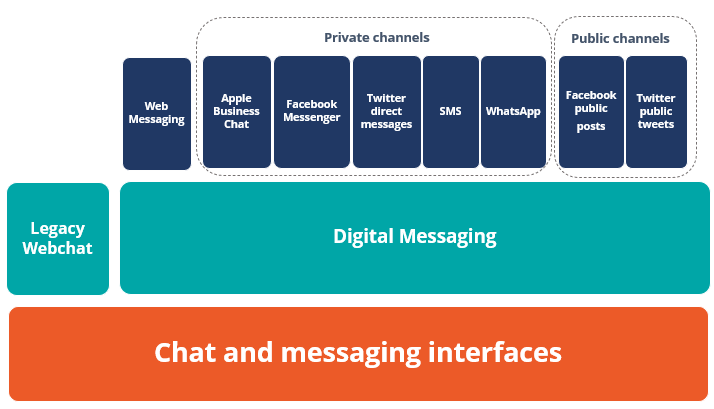 You can get started by familiarizing yourself with the Legacy Webchat and Digital Messaging channels and their configuration instructions in the following sections.
Did you find this content helpful?
100% found this useful