A trend report presents counts of events, objects, or actors at a series of points along a continuum, normally a time line. The X-axis of a trend report displays data points on that continuum representing weeks, months, or quarters in a year, or some other meaningful increment. One column of the data supporting the trend report is displays one or more Single Value properties of a DateTime type.
Example — Report Definition rule
In a report definition rule, create a summary-type report, one including at least one column of summarized data. One of the columns holds the continuum value that provides the X-axis of the report and any accompanying chart. To set the function summarizing the data by some unit of time, click the Function Builder icon (
) to the right of the column to display the SQL Function Builder. Select the time-related function that suits your report. See Report Definition rules — Completing the Design tab.

If you add a chart to the report, note that
Pie charts do not represent trend reports
If you use a line chart, the time-unit data for the X-axis of the report must be in the second column on the

Design

tab.
If you use a bar chart, or any other type of linear chart, the time-unit data must be in the first column.
See Report Definition rules — Defining and editing charts.
Example — Summary View rule
The standard summary view rule Work-.ArrivalsPastEightWeeks presents counts of the number of new work objects created (by work type) in each of the immediate past eight weeks.
To view this chart for your own application:
Select the application work pool to be reported on
Open the summary view rule.
Click the Run toolbar button ().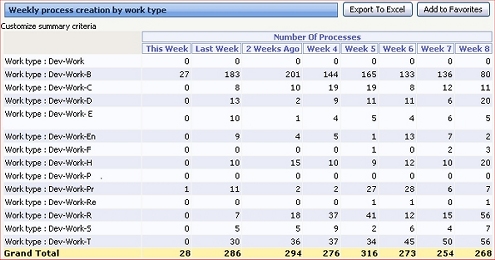 Development
To create a trend report:
Identify the DateTime properties that are the basis of the time intervals.
Create a summary view report. In the Fields area of the

Content

tab, click the Trend Report button ().
Complete the pop-up form to identify the DateTime property, the dates and times for each range, and the labels. See Summary View form — Completing the Content tab — Entering trend details.
You can present values in a trend report as an interactive line chart:
Design and test a summary view report.
On the

Chart

tab, select Use a Chart for the view?
Select Interactive as the Chart Output Type.
Click

Configure Interactive Chart

. Select the Line type.
For example, open and run the Work-.ArrivalsPastEightWeeksIC summary view rule. For another example, see Pega Developer Network article

PRKB-24156 How to create an interactive trending line chart.
Definitions — T