System Node data instances
In a multinode cluster, complete this optional form to supply an HTML description of each node in your multinode system.
Where referenced
The following tabs are available on this form:
A System Node instance is automatically created each time a new server joins a system. The key is a system-generated hexadecimal hash value, the Node ID.
To improve the clarity of the log-on screen, Alert log, and other listings, enter a Short Description that uniquely identifies this node. Chose text that is more meaningful to system administrators than the hash Node ID value.
The Node Description you enter appears on the Systems Nodes Detail report, which lists all nodes that participated in your system (by connecting to the PegaRULES database) during the last 30 days.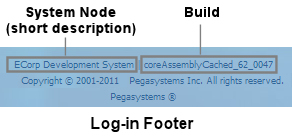 The Short Description appears in the footer of the log-in form, in the alert log, and in other listings.
Access
Use the Records Explorer to list the System Node data instances on your system.
Category
The Data-Admin-Nodes class contains System Node data instances. They are part of the SysAdmin category.